Is your sex life of quality in nature or quantity?
I am here to say that quality is as vital as quantity. As Dokta Laura, I am here to make certain there are good feelings for both partners while engaging in sexual activity.
Never stop dating your partner no matter how many years you stay in a relationship, and always change up the routine, even if having your best orgasms comes in one form or fashion. One never knows what might spark something new and exciting in the bedroom.
Memberships
Monthly Memberships are now available.  As a member, your price stays the same as your initial payment when you keep your membership active.
30 Day Pass
With this membership, you can have your membership locked in for 30 days and have no further billing. You may let it expire and come back and join again when you feel the "need"!
Contributions
With the cost of Bras as high as they are, you may consider making a donation to the Bra Jar.  All donations will be used to purchase new bras and be featured in a future video!
Membership Plans
I have worked on these plans and pricing to make it affordable to everyone. From simple monthly plans to those who really like the site and want to become Monthly, or even Lifetime members.  So jump on board! Remember I am your natural Viagra!
***Monthly
Monthly Recurring
Current members with this membership will be able to keep it as long as they do not cancel.  

Access to Full Features

Access to Blog

Technical Support (email)

Billed Monthly

Never Worry About Your Membership Expiring
30 Day Pass
Access to Full Features

Access to Blogs

Technical Support (email)

Play for 30 Days

No Monthly Fees
Access to Full Features

Access to Blogs

Premium Technical Support (top of the cue)

Access to All Future Content

No Fees Ever Again
What Our Customers Are Saying
Don't just take it from us, let our customers do the talking!
This is a wonderful site where Dokta Laura gives so many wonderful ideas about how to express sexuality with your loved one. She is very astute and the combination of her own sensuality (never pornographic) and her words of advice are very powerful and I think useful to many.
Season 2 has been amazing and wonderful so far. You are sensational in every way!




To be honest Dokta Laura, it's very difficult to pick just 1 favorite video because each of them is different with merits of there own… I, myself have to watch each of them at least 3 times… The first couple of times is just for my own pleasure & to get off on… Then, after a good nap, I watch them again in order to listen to what you have to say in your videos… I have learned many things from your wisdom & use some of that knowledge to this day!!! (example: Olive Oil!) I don't know how I can thank you for this, but, please, don't stop making new videos!!! Hugs, David









Frequently Asked Questions
Can I change my plan from a monthly to the yearly plan?
Yes, you are free to change membership any time you choose.  The system will stop the current subscription and start the new subscription on the day you switch.
What is your refund policy?
Do to the nature of digital delivery, there are no refunds on purchases; however you are able to change your membership to another form of membership at any time. You can also cancel any time.  Just be aware that if we change our
Membership Pricing
you will not be able to get the original price. We reserve the right to change pricing at any time, for any reason. Please refer to our
Terms Of Service
for any further information.
What types of memberships do you have?
The membership levels are above on this page.  There are:
Can I upgrade after signing up?
Yes, you can upgrade at any time after signing up. When you log in as a free subscriber, you will see a notice regarding your current membership and instructions on how to upgrade.
How can I contact you?
Just click on the Contact Us link at the top of the page and send us an inquiry.  We strive to get back to you within 24 hours, but most of time we are much quicker than that!
About Dokta Laura
I'm here to discuss bras. If any one would like for me to model a specific Bra, or if you are a company that would like for me to talk about; the wearing of, the functionality of, and use of your bra, please contact me for discussion by using the
contact page
.  You may also mail the items and instructions, to the address listed there.
It is in my intention to help women understand not only the functionality of the bra and how to wear it, but to also help women and men with ideas on how to use it in the bedroom, behind closed doors. I do hope my sex therapy ideas help in more ways than one.
Thank you for your interests in BraTalk, and I do hope to continue to expand your mind to sensuality while modeling bras and lingerie.
How Can I Make A Donation To The Bra Fund?
Many of you have expressed interest in contributing to a New Bra Fund. Below is a link to Paypal if you would like to contribute. The Contribution amounts are from $5.00 to $300 dollars. Thank you for thinking of this! (They are quite expensive!)
What payment types do you accept?
Payment Companies Offere
d
Stripe
PayPal
Coinbase
Cash
Stripe – allows you to use MasterCard, and Visa credit cards.
PaPal – allows you to use your account with them along with the payment methods you have set for your account, including payment from your bank account, debit cards, credit cards etc. You can also pay using a credit card or debit card without having an account with PayPal by choosing to pay with a credit card.
Bitcoin – We have a relationship with Coinbase which allows you to pay with bitcoins avoiding the costly fees associated with transferring money via banks or using credit cards. Those of you who know of bitcoin know of the anonymity of its use. Coinbase adds support for PayPal and Credit CardsOne of our objectives at Dokta Laura and at Coinbase is to add as many funding mechanisms as possible to make exchanging digital currency easy. As a step in that direction, Coinbase now accepts PayPal (for bitcoin sells) and credit cards (for bitcoin buys).Thousands of Coinbase users use PayPal for their fiat currency transactions around the world. Through this integration, Coinbase users are now able to sell BTC and have their USD funds deposited to a PayPal wallet. To start, we're offering PayPal cash-out for US users only. In the future, we hope to add support for other countries, and to support buys through PayPal as well.As you may recall, we launched debit card buys a few months ago. With the addition of credit card support, we are getting closer to a world where customers can purchase bitcoin with any card in their wallet. Both services are currently in beta. We'll invite more users to each service over the next few weeks, and we'll be expanding to more countries in the coming months.To get started, visit the payment methods page on Coinbase.com or tap "Settings" and then "Payment Methods" on iOS or Android. Your feedback is important to us. Feel free to reach out to us at our Community Forum. If you don't have a Coinbase account, sign up here!
Cash – you can always send cash or money orders.  Only Yearly memberships are available using this method of payment.  Make money orders out to the management company, Cyberfix. Tell me your email address and I will create an  account associated with that address and mail you the login information.  You can mail it to the address on the contact page.
How do I view the videos on the member page?
Recently some members have expressed that they did not know how to view the videos.  The site was designed to be as functional and as easy to use as we could possibly design.  I wanted to have all the functions designed as intuitive.  With this in mind, when the page is loaded, there are several windows that come up.  There is a window at the top of the page with a Play button in the center, and below it, a series of images.  Each side of this are arrows pointing either right or left which when clicked will advance to another block of images representing video that can be selected.  By clicking on this image, a video will be loaded into the viewing screen where you can view the video.  Take a look at the image below.  If you have further questions, please send an email.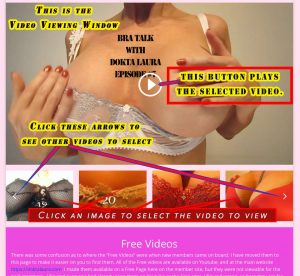 If I can help, shoot me an email!
Don't be shy!
If I didn't answer all of your questions, feel free to drop me a line anytime.
I will usually get back with you within 24 hours.